Save $300 Segway Loomo Discount + Get Free Gifts (Holiday Sale – Limited Time Offer!). Free Shipping
Segway Loomo Advanced Personal Robot, Mobile AI Sidekick, Smart Self-Balancing Electric Transporter
Segway Loomo Discount Review
Pros and Cons
What Our Team Loved
-Can carry your bags for you
-Steering with the knees is quite intuitive
-The Segway Loomo is very stable
-The robot can be commanded using your voice (although limited)
Not so Much
-Demos indicated that facial tracking and voice commands were spotty
-Weight limit is 220lbs/99kg
-Unit is quite pricey with The retail price for -Loomo $1799
-Lacks handlebars like other Segways
-Obstacle avoidance doesn't live up to the claims
Seriously in need of software updates but none available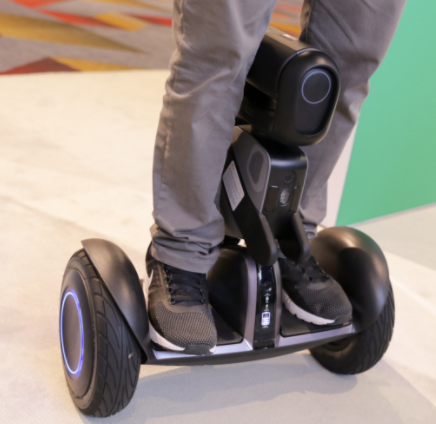 Segway Loomo Key Features
Motion Control: The motion control on this self-balancing Segway is pretty great. It features quick-response technology, has disturbance rejection, and allows you to glide along smoothly on varying surface types.
Obstacle Avoidance: If you are concerned about riding or using your Segway Ninebot Loomo through a busy place, don't worry. This smart Segway uses its tech to create high-res maps of its environment and, therefore, can anticipate pedestrian behavior, monitor its own mechanical system, and react to the surrounding area. It can easily follow you and avoid obstacles as a result, even if you are in a crowded spot.
3 Axis Gimbal: The gimbal provides stability to the HD camera, and allows Loomo to take high-quality videos as well as carefully assess its surroundings. The camera is beautiful 1080p and has 30Hz streaming capability for fantastic photo and video taking.
Telepresence Avatar: This feature allows you to take on the role of Loomo. You use your phone to see and speak to the world as Loomo does! It is achieved using a total of 5 mics on its head that help determines voice and noise direction as well as hear your vocal commands. It could be a fun alternative to the Double Robotics telepresence robot if you are looking for something to use at home.
How It Works
You operate the Segway Ninebot Loomo much in the same way you do a self-balancing scooter or hoverboard.
It is advised that you wear a helmet when you run the Loomo.
Carefully step onto the self-balancing platform, and then lean forward to make the machine go forward. You can lean back to slow it down or go backward.
Turning the Loomo was arguably the favorite part, you press the knees into the center of the unit and lean to the left and right. It certainly feels a bit safer than how to turn a hoverboard.
To activate your robot friend, all you have to do is push a button on the top of the machine, and a screen pops out.
This screen has a face with varying "emoticon" like faces, and now becomes a helpful robot that can aid you in carrying your bags. It also can learn to follow around its owner autonomously and can help in the shooting of stable videos.
You need not even have programming experience to teach Loomo new things. You can use your smartphone to handle this. You can use a text-to-speech feature to make Loomo talk to the people around him.
The camera attached to Loomo integrates with your smartphone to show you who is looking at Loomo and allows you to interact with that person.