Q'nique Long Arm Quilting Machine
NEW TOUCH-SCREEN
Touch-Capable Easily do what you need to with a simple tap of the finger.
Larger Screen Size 2.5 inch full-color display beautifully shows your options.
User-Friendly Menu Powerful features and easily adjustable settings makes using the 15 Pro a joy!
Adjustable, Locking Screen Tilt the screen to the most comfortable position for your wrist and then lock it in place.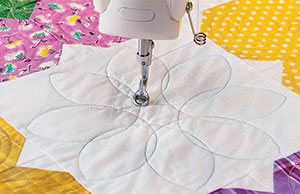 SUPERIOR STITCHING QUALITY
Enhanced motor and stitch quality with the Q'nique 15 Pro.
More powerful motor with the Q'nique 15 Pro for faster, more detailed stitching.
The 15 Pro features an enhanced motor capable of stitching at 2,000 stitches-per-minute.
The 15R and 15M feature a high-power motor capable of 1,800 stitches-per-minute.
Thread tension is easily adjustable.
Features
The 15R inch throat lets you sew larger patterns and blocks
Larger throat space for a more convenient, less cluttered work area
Comfort Grip Handles
Convenient quick-access buttons for easy control of sewing functions
Every part has been fine crafted and tuned, to give up to 1,800 stitches per minute, so you can blast through your quilts faster than ever
Stitch regulation keeps your stitch length consistent, even as you speed up and slow down
The OLED screen displays an easy to navigate menu, which includes four different sewing modes
Included Motorized Bobbin Winder can wind a bobbin without running the machine
A bright OLED screen displays sewing settings
Large class M bobbin for longer quilting times without needing to change your bobbin
Easy-access bobbin for simplified changing
Dual-cone thread towers
Multiple accessory ports let you attach convenient sewing machine add-ons
Illuminate your work area with the integrated LED work lights
Basic Machine Includes
Front handles
Electronic display
Encoders
Power cable
3 Qty M-Class bobbins
10 Qty sewing needles
Sewing machine oil
Allen wrenches, screw drivers, lint brush
Q'nique Long Arm Quilting Machine